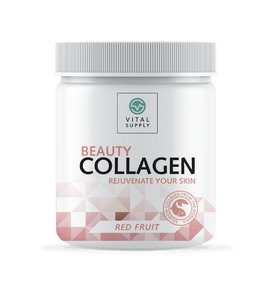 Beauty Salmon Collagen with Vitamins and Minerals is a premium product with Scandinavian salmon and superior anti-aging properties. 
The basis of this unique product is sustainably sourced salmon collagen. Besides being relatively low in calories, salmon is packed with proteins and vitamins that help stimulate collagen production. Salmon collagen contains both Type 1 and Type 3 collagen, which are also found in our own skin. However, the production of natural collagen decreases from the age of 25, leading to the formation of more wrinkles, among other things.
Vital Supply has combined premium salmon collagen with Biotin and Vitamins to enhance the anti-aging properties of the product. Biotin is closely involved in the production of fatty acids and promotes a healthy, smooth, and younger-looking skin. A deficiency can cause a red and flaky skin, which we naturally want to prevent.
Salmon collagen is also a high-quality protein that can aid in weight loss. The proteins from salmon provide a feeling of satiety, reducing the urge to eat.
All in all, this product is the deluxe version of Vital Supply's Collagen Peptides Type 1 with Vitamin C and D, with even more focus on anti-aging properties and a radiant appearance!
Beauty Salmon Collagen is available in Citrus and  Red Fruit flavours.
Younger skin
Fewer wrinkles
Soft & smooth skin
Hydrated skin
Fuller hair
Strong nails
Contains no sugars
Helps with weight loss
DIRECTIONS FOR USE:
Recommended daily dose, 10g.  Fill included measuring scoop to the 20cc (10g) line and mix with water.  Take one dose daily.
Always close the jar tightly, protect it from sunlight and moisture, and store it below 25 degrees Celsius to prevent discoloration or clumping.
Food supplements should not be used as a substitute for a varied diet and a healthy lifestyle. Do not exceed the stated recommended daily dose.  The product should be stored out of the reach of young children. 
INGREDIENTS:
Salmon (FISH) collagen hydrolysate (collagen type 1 and 3), chicory inulin, natural flavor, ascorbic acid (vitamin C), acidity regulator: sodium bicarbonate, sweetener: mixture of steviol glycosides (from stevia leaves) and natural flavor, colorant: saffron extract, nicotinamide (vitamin B3), riboflavin (vitamin B2), vitamin B6, biotin.
NUTRITION FACTS:
| | | | |
| --- | --- | --- | --- |
| Per | 100g | 10g | DRV%* |
| Energy | 919 kJ | 92 kJ | |
|   | 220 Kcal | 22 Kcal | |
| Fat | 0g | 0g | |
| Of which is saturated | 0g | 0g | |
| Carbohydrates | 3.2g | 0.3g | |
| Of which is sugar | 0 g | 0g | |
| Protein | 47.5g | 4.8g | |
| Salt | 0.05g | 0.01g | |
| | | | |
| Vitamin B2 | | 1.4mg | 100% |
| Vitamin B3 | | 16mg | 100% |
| Vitamin B6 | | 1.4mg | 100% |
| Biotin | | 50mcg | 100% |
| Vitamin C | | 160mg | 200% |
*DRV=Dietary Reference Value