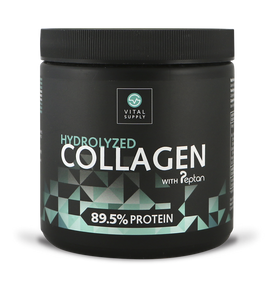 Rejuvenate Your Appearance and Health with Vital Supply Hydrolyzed Collagen
As we age, the challenge of maintaining a youthful appearance, strong bones and joints, healthy nails, and lustrous hair becomes increasingly significant. Natural collagen production in the body begins to decline after the age of 25, emphasizing the importance of collagen supplementation in your daily regimen. This is where Vital Supply Hydrolyzed Collagen powder, featuring Peptan, becomes your simple and effective solution for daily collagen intake.
Vital Supply Pure Collagen Hydrolyzed boasts an impressive 99.5% pure collagen, guaranteeing freedom from impurities. This hydrolyzed collagen powder is derived from meticulously purified collagen peptides, ensuring optimal absorbability and efficiency. Taking it a step further, we've enhanced our collagen supplement with the synergistic power of Vitamins C and D. These essential vitamins play pivotal roles in collagen synthesis. Vitamin C acts as a guardian against collagen degradation, while maintaining optimal Vitamin D levels is known to enhance collagen's performance even further.
But the benefits of Vital Supply Collagen Powder extend beyond skin and joints. Vitamin D, a key component of our supplement, positively influences muscle health, bone strength, cognitive function, and immune system support.
Here's why Vital Supply Hydrolyzed Collagen should be your top choice:
Type 1 Hydrolyzed Collagen Peptides: Experience the most bioavailable collagen for noticeable results.
Enriched with Vitamin C and D: Boost your collagen production and overall well-being.
Free of Preservatives & Additives: We maintain a pure and clean formula.
Paleo-friendly: Perfectly aligns with your health-conscious lifestyle.
89.5% Protein: Maximize each serving's benefits.
By choosing Vital Supply Collagen, you're investing in your beauty, strength, and vitality. Incorporate it into your daily routine to rediscover your youthful radiance and promote overall well-being."
DIRECTIONS FOR USE:
Dissolve 1 scoop (10g/20cc) in a glass of water (200 ml) or in another drink (coffee, tea, smoothie etc.).
Food supplements should not be used as a substitute for a varied diet and a healthy lifestyle. Do not exceed the stated recommended daily dose.  The product should be stored out of the reach of young children. 
INGREDIENTS:
Nutritional supplement based on hydrolyzed collagen and vitamins. Ingredients: Hydrolyzed bovine collagen type 1 (99.5%); vitamin C (ascorbic acid); Vitamin D (Cholecalciferol)
NUTRITION FACTS:
| | | |
| --- | --- | --- |
| Per | 100 g | 10 g |
| Energy | 1523 kJ | 152.3 kJ |
|   | 358 Kcal | 35.8 Kcal |
| Fat | 0 g | 0 g |
| Of which is saturated | 0 g | 0 g |
| fatty acids |   |   |
| Carbohydrates | 0g | 0 g |
| Of which is sugar | 0 g | 0 g |
| Protein | 89.5 g | 8.95 g |
| Salt | 1.47 g | 0.147 g |