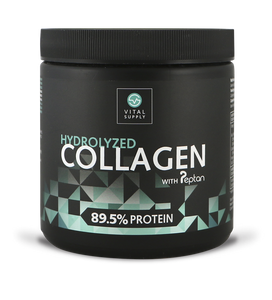 Vital Supply Hydrolyzed Collagen is a type 1 collagen peptide supplement enriched with vitamins C and D. Collagen is an essential building block in your body that provides a smooth, elastic skin, strong nails, shiny hair, and flexible joints. Unfortunately, natural collagen production declines in the body after the age of 25, which is why daily collagen supplementation is recommended. Vital Supply Collagen powder is an easy and effective way to supplement your daily collagen intake.

Not only does collagen production decrease as you age, but also the ability to produce vitamin D decreases with age. Vital Supply Collagen Powder contains Vitamin C and D, both of which are crucial in collagen synthesis. Vitamin C protects against collagen breakdown, while vitamin D deficiency increases collagen breakdown. This means that vitamins C and D enhance the functioning of collagen, in addition to the positive effects of vitamin D on your muscles, bones, brain function, and immune system.
Vital Supply Hydrolyzed Collagen is a paleo-friendly supplement that's free of preservatives and additives, making it a safe and healthy choice for your daily routine.


Type 1 Hydrolyzed Collagen Peptides
Enriched with Vitamin C and D
Free of Preservatives & Additives
Paleo-friendly
89.5% Protein
DIRECTIONS FOR USE:
Dissolve 1 scoop (10g/20cc) in a glass of water (200 ml) or in another drink (coffee, tea, smoothie etc.).
Food supplements should not be used as a substitute for a varied diet and a healthy lifestyle. Do not exceed the stated recommended daily dose.  The product should be stored out of the reach of young children. 
INGREDIENTS:
Nutritional supplement based on hydrolyzed collagen and vitamins. Ingredients: Hydrolyzed bovine collagen type 1 (99.5%); vitamin C (ascorbic acid); Vitamin D (Cholecalciferol)
NUTRITION FACTS:
| | | |
| --- | --- | --- |
| Per | 100 g | 10 g |
| Energy | 1523 kJ | 152.3 kJ |
|   | 358 Kcal | 35.8 Kcal |
| Fat | 0 g | 0 g |
| Of which is saturated | 0 g | 0 g |
| fatty acids |   |   |
| Carbohydrates | 0g | 0 g |
| Of which is sugar | 0 g | 0 g |
| Protein | 89.5 g | 8.95 g |
| Salt | 1.47 g | 0.147 g |